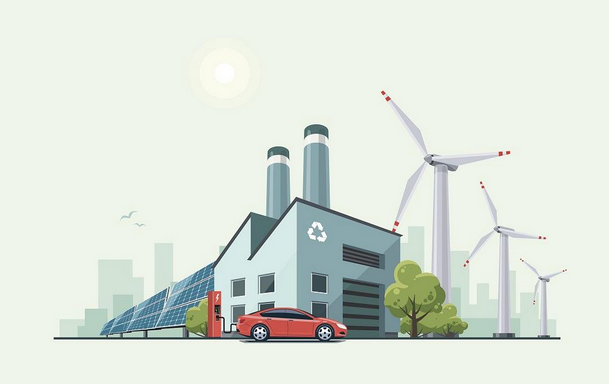 Sustainable manufacturing is not another fad. Sustainable manufacturing is necessary for public health and employee safety. It is also simply good business practice.
If you fish, hunt, or backpack, knowing your environment is an important consideration in where you practice your sport. Few of us would choose to fish offshore of a chemical plant. We resist hunting or hiking near a known toxic waste dump. Part of our enjoyment is in the mental and physical benefits of the silent beauty of the natural world. Our sports promote ethical practices, taught by past generations and enforced by park and wildlife rangers. Sustainable manufacturing is really the same ethic used by us as sportsmen to ensure safety and value for ourselves and future generations.
Sustainable manufacturing isn't a right-wing or left-wing political issue. The threat of silent poisons can permanently damage the health of our families, neighbors, and future generations. Using the right practices can help protect the health and safety of your employees, your families, and your neighbors. Sustainable manufacturing, as a practice to promote efficiency, also supports better business decisions and practices.
Consequences of Our Decisions
Evidence of the negative health impacts for those that live nearby manufacturing facilities has been collected over the years, and it has led to more concern about how these facilities affect the health of our families and the environment. Studies have found that proximity to sources of pollutants can lead to pregnancy issues like central nervous system defects, oral clefts, chromosome anomalies, perinatal mortality, and low birth weight. Childhood cancers also show elevated levels near manufacturing facilities.
Residents living near manufacturing facilities and employees are also becoming less tolerant of pollutants and elevated health risks. Louisiana's "Cancer Alley," a stretch of the Mississippi River between New Orleans and Baton Rouge, is heavily occupied by refining and petrochemical plants. It also has one of the highest cancer rates in the country. Residents along this stretch have complained about the smells and the risks for decades. They are becoming more vocal about the risks to their health and are asking for better protections of their air and water.
Most recently, the Flint Water Crisis proved to be a perfect storm of decades of industrial waste, bad decisions, and self-serving politics. In summary, the City of Flint changed their water source from the Detroit system (with a reputation for quality water) to their own. They drew water from the Flint River. The Flint River suffers from decades of industrial waste from the automotive and chemical industries, along with raw sewage. Flint's system is also supported by old lead pipes. While the Detroit system treated their water to prevent lead leaching into drinking water, the Flint system did not. The consequences of these decisions included elevated lead levels in the blood of an estimated 9,000 Flint children. Also, the presence of fecal coliform bacteria was discovered in the water. The additional chlorine added to correct the bacteria resulted in the presence of cancerous TTHM chemicals. Along with this, at the same time as the switchover from the Detroit system, the third largest outbreak of Legionnaires disease took the lives of 12 people.
Unfortunately, city and state officials brushed off citizen complaints of undrinkable water. It took an uprising of Flint citizens and supporters to force the issue. Everyday citizens sued to force city, state, and federal agencies to do their jobs to protect the citizens of Flint from unsafe drinking water. This event presented a huge stain on the previous former Michigan Gov. Rick Snyder's legacy.
Learn From the Past

The lesson of these stories is that there are consequences to our decisions. I wrote previously about the Boeing 737 MAX, the Texas City refinery explosion, and the Union Carbide catastrophe in Bhopal, India. While Flint appeared to be malicious indifference, most health and safety issues result from a lack of awareness, inadequate training, and indifference to compounding events.Fortunately for all of us, industry, technology, and attitudes are changing. Each of us has the ability to challenge the status quo and offer solutions that support both cleaner manufacturing and better business. Sustainability is simply about making decisions that promote the use of cleaner technologies where appropriate and reducing wastefulness.
What can sheet metal forming professionals do?
· Consciously select the right lubricants for your application with an eye toward cleaner chemicals
· Only use the amount of lubricant necessary to reduce friction, and to reduce waste
· Understand the technologies and materials you use, to reduce failures and scrap
· Pay attention to coil mill certifications to ensure your inputs are within specifications
· Use virtual simulation effectively to reduce the cost and waste of excessive die tryouts and to understand the dynamics of your forming operation and materials
· Monitor your manufacturing processes and technologies to prevent costly equipment and personnel inefficiencies and failures
· Keep your equipment clean and well maintained,
· Keep your workspaces clean and organized
· Develop and practice emergency protocols for dangerous equipment states, spills, and leaks
· Do and understand your FMEAs and the criticality of each failure mode
· Learn continuously, understand your operation, and teach incoming professionals
With today's processes, forming, and information technologies, manufacturers have little excuse to be complacent about environmental health and safety. As you can see, the solution to providing a safe work and neighborhood environment is the same solution to managing a manufacturing business effectively.
Sustainability is not just environmentalism. It's a commonsense approach to running a safe and effective business operation.
From:The Fabricator